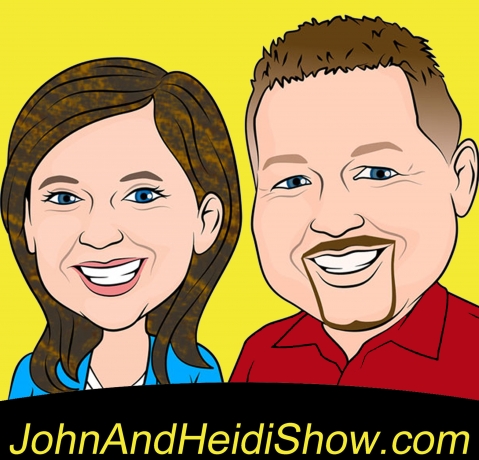 John Small & Heidi Braunschweig (now Small) met in 1999 when John moved to Iowa to help launch a new radio station. They married in 2000 & 
have two kids (Troy & Taylor)  and two dogs (Mandy & Miley)
THIS radio show began in 2010. It's unusual to have a MARRIED COUPLE on the radio together.  Each program has fun info that will inform and hopefully entertain you. Each day we feature silly segments like  "Weird News", 'Moment of Duh", 'Scoop of The Day", "Dad Jokes", "Fun with Phobias" & more. We always end the show on an up note with "Good News"!
In January of 2018 we launched a new feature called #MovieStarMonday! We visit with movie stars about their projects, career and more! If you know someone who would like to be on the show, please have them (or their agent) reach out to us!
Shortly after we began the John & Heidi Show, we had something funny that we wanted to talk to Heidi's dad about. Whatever it was, the call was SO FUNNY that we decided to call him again… this turned into a weekly feature that many look forward to each week! Charlie shares some fun little nuggets of knowledge and we ask him a question each week.
If you have something happening in your life… whether it's a BIG thing or a SMALL thing… we would be happy to give you some advice on how to deal with it. John gives his advice… then Heidi gives HER advice… plus everyone is welcome to chime in with their own advice on our facebook page.
At the end of every week, we have a guest to talk about a TV show or a book or something that will hopefully be interesting to everyone. These are guests that don't fit the topics above, but we still make room for them and try to have fun visiting.